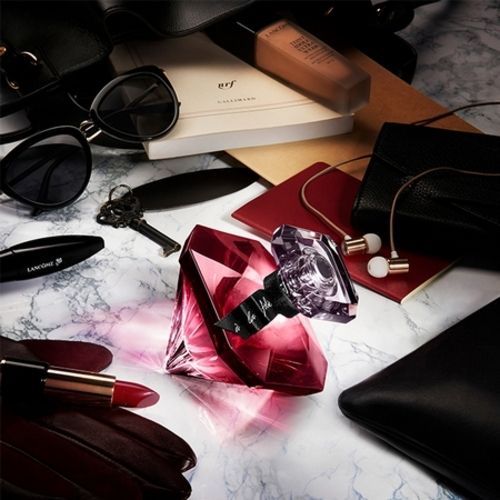 La Nuit Trésor à la Folie by Lancôme, an elixir of love embodied by Pénélope Cruz
The Lancôme house is characterized by its always very romantic style. She made the rose her emblem and this is how this noble flower is found in many of her perfumes. It all started with the creation of Trésor in 1990. The time was then for tenderness and the embrace was a symbol of eternity. Then, love morphed into a more captivating game. The rose has become an aphrodisiac and Trésor has evolved into La Nuit Trésor . Today, Lancôme is offering us a derivative of this scent called La Nuit Trésor à la Folie. This is an elixir more bewitching and erotic than ever, once again embodied by Penélope Cruz.
La Nuit Trésor à la Folie, a fragrance synonymous with passion
La Nuit Trésor à la Folie by Lancôme is a fragrance similar to a love story . Yes, but not just any… This is a romance guided by ardor and passion! It is floral elixir is an ardent concentrate that burns with desire. It contains the emblematic flower of Lancôme's Trésor collection: the Damask rose. It surrenders here in contact with a bouquet of jasmine and peony, and then enriches itself with delicious vanilla, narcotic amber, fiery woods and musk. This olfactory explosion navigates between strength and pleasure. It is delivered to us in a bottle similar to a glowing red diamond and invites us to experience the great thrill of love.
Pénélope Cruz, undisputed figure of Lancôme
While she will soon be in the spotlight at the 43rd Cesar Ceremony, it is the seductive Pénélope Cruz who has again been chosen by the Lancôme brand to embody the face of La Nuit Trésor à la Folie. Indeed, the beautiful Spaniard dear to the heart of Pédro Almodovar has been the face of the brand since 2010. With more than 60 films to her credit, she embodies the image of a woman who has succeeded in everything and it is therefore a real pleasure for Lancôme to be able to collaborate with her.
La Nuit Trésor à la Folie offers us an irresistible game of seduction
In this new commercial clip, Penelope Cruz is accompanied by Noah Mills and both play the role of two lovers in love with an uncontrollable passion and desire. The scene takes place in a nocturnal atmosphere and takes us on a sensual and intoxicating chase. It's as if this feverish and spellbinding love game hasn't lost any of its intensity over time. The whole of this mini film takes place on the title "Ivory" by the Australian group Movement. Moreover, this is not the first time that Lancôme has chosen this song to accompany the marketing of one of its fragrances. The perfume La Nuit Trésor was imaged here by director Johnny Green.