From its first year of creation, 1935, the Lancôme fragrance house will present 5 perfumes at the Universal Exhibition in Brussels. In 1974, the brand put an ingredient in the spotlight, the rose, which became the emblem of the brand. Among the greatest olfactory successes, we note Ô de Lancôme, Miracle, Hypnose, La Vie est Belle and Trésor. Released in 1990, Trésor is an emotional fragrance that brings out notes that are both floral, fruity, amber and powdery. Building on this success, the Lancôme house has offered many variations, each as dazzling as the next.
Trésor, a refined rebirth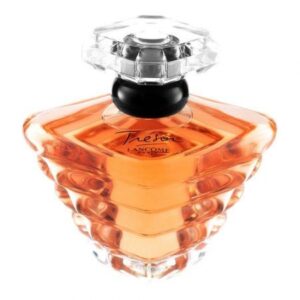 A fragrant bouquet in the heart of Trésor
Originally released in 1952, the Trésor fragrance did not meet with the expected success, then it fell into disuse. Always so feminine, the 1990 perfume is constructed in a more luxurious, more refined and more luminous way. Trésor is now considered an olfactory myth. Sophia Grosjman, the perfumer, in charge of Trésor, confides that she was "inspired by a feminine, confident woman who we remember. A very loving woman. ".
The composition takes off on the fruity and sweet tones of peach and apricot. The heart is loaded with flowers with a powerful scent such as lily of the valley, lilac, violet, iris and rose. These flowers are associated with the heliotrope which offers its light and airy appearance. Finally, the base is sensual and warm and combines sandalwood and amber and vanilla.
La Nuit Trésor, a mysterious sensuality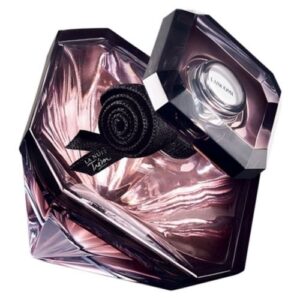 La Nuit Trésor, the first gourmet aphrodisiac fragrance
The Night Treasure symbolizes the meeting of two stars inevitably attracted to each other. Having collided, these stars would have given birth to a shower of particles, from which comes the fragrance La Nuit Trésor. Feminine, magnetic and ultra mysterious, La Nuit Trésor will attract you like an uncontrollable power. Bold and gourmet, the composition is made around two ingredients, the rose and the Tahitensis vanilla orchid.
We will thus find the rose of Damascena, in top note, electrified by rose oxide and black rose, combined with the exoticism of lychee. The heart is ultra floral with the presence of rose, jasmine absolute, violet and heliotropin, but also greedy, because it combines vanilla, praline and frankincense. Enigmatic, the base combines patchouli, benzoin and papyrus vapors.
Airy and floral notes at the heart of Trésor Midnight Rose
We discover here a powerful and honeyed heart filled with rose, the Queen of flowers. Dynamic and joyful, Trésor Midnight Rose signs a femininity pushed to its peak. Indeed, the Lancôme woman is more feminine than ever, and she is sublimated by the rose. In the midst of magic, Trésor Midnight Rose leads us towards the most loving emotions.
In the top note, we immediately find the rose, accompanied by very tangy and juicy touches with the presence of raspberry, blackcurrant bud and love apple. The floral accord returns as a heart note, with the rose, but also with the romanticism of jasmine and peony. The base is intense and sensual thanks to the presence of cedar and vanilla.
Lancôme signs a timeless fragrance with Trésor in Love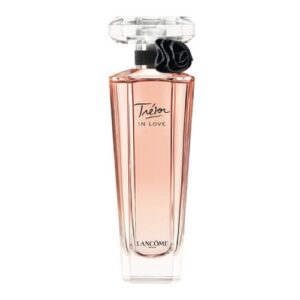 Trésor in Love, une histoire d'amour désarmante
En 2010, Lancôme propose une nouvelle déclinaison de Trésor avec Trésor in Love, une fragrance amoureuse. Celle-ci nous entraine à Paris, dans ses rues pavées, ses ponts et ses balades romantiques. Lumineuse, sensuelle et rayonnante, la fragrance Trésor in Love surfe sur la mélodie du bonheur.
Les notes de tête s'envolent sur un accord fruité poire-nectarine qui s'associe à la fraicheur de la bergamote. Les pétales de rose, le jasmin et la violette explosent dans un cœur on ne peut plus floral. Le fond se veut boisé et sensuel grâce à la présence de muscs blancs et de bois de cèdre. Objet de désir à la silhouette longiligne, le flacon arbore une rose de satin noire offrant à l'ensemble, une ultime touche d'élégance.
Lancé initialement en 1952, Trésor connaitra ses heures de gloire dès 1990. Fragrance lumineuse et féminine à souhait, elle s'adresse à toutes les femmes amoureuses. Inspiré de la forme du Trésor initial, le flacon a été pensé tel un diamant brut ciselé en 75 facettes. Ce véritable bijou révèlera tout son jeu de séduction dans la transparence de son verre. Toutes les déclinaisons de Trésor offrent des fragrances amoureuses, romantiques ou encore plus magnétiques, mais toutes ont en commun la beauté de la rose, emblème de la maison Lancôme.