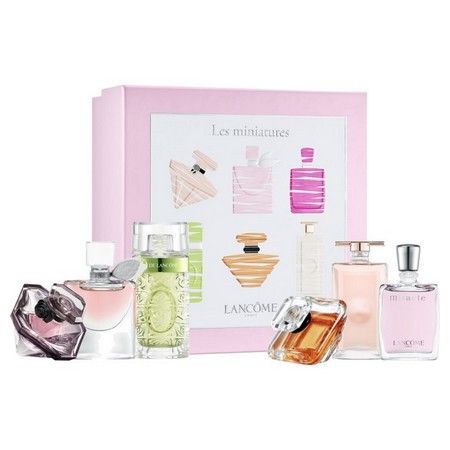 Lancôme brings together six iconic fragrances in a gift box
Mother's Day is fast approaching and perfume is still one of the most popular gifts. But how do you find the perfect fragrance? Renowned for its feminine and romantic essences, the Lancôme house is one of the favorite brands of French women. However, its catalog contains many references. What if you no longer had to choose from the house's bestsellers? To satisfy all tastes and desires, Lancôme has chosen to bring together six of its cult perfumes in a single box . Here are the six essences contained in his gift box.
Idole of Lancôme
The first juice to be part of this set, and not the least: the latest from Lancôme, the Idôle perfume ! Symbol of finesse and delicacy, it gives us a contemporary and radiant femininity. On the olfactory level, Idôle is a very sophisticated chypre and floral essence. Like many Lancôme perfumes, it places the rose at the center of everything, transforming it into a vegetal, fresh and voluptuous flower.
Lancôme's treasure
Icon of perfumery, Trésor de Lancôme was born in 1990 and symbolizes all dimensions of the eternal feminine. Infinitely precious, it embodies the image of a loving, fulfilled and serene woman. Floral, fruity and powdery, it deploys a scent of rose refreshed with lilac and lily of the valley. The peach envelops everything in tenderness, while the iris underlines its natural elegance.
Lancôme's Treasure Night
Synonymous with mystery, La Nuit Trésor is a fragrance thought of as a fascinating enigma. Very poetic, it comes in a jewel-shaped bottle, cut like a precious stone. This rough diamond contains a gourmet and chypre juice, articulated around two noble flowers: the rose and the vanilla orchid. Very contemporary, La Nuit Trésor by Lancôme still contains a deliciously luminous accord of lychee. Its breath of black rose gives it a sensual and distinguished scent. Enchantment guaranteed!
Ô from Lancôme
L'Ô de Lancôme takes us back to 1969 and delivers all the freshness of dew, existing on the skin, and coming to refresh the body on a beautiful summer day. This chypre and green juice is a true icon of perfumery, inspired by the Eaux de Cologne of yesteryear, while releasing a slightly bitter, persistent and spicy scent. This floral fragrance is particularly invigorating and is a real benchmark in its field.
La Vie Est Belle by Lancôme
La Vie Est Belle is a perfume loaded with optimism, synonymous with accomplishment, happiness and self-realization. Presented in the Lancôme Flacon au Sourire, it gives off a gourmet scent of praline and vanilla, illuminated with jasmine and orange blossom. The iris, in turn, gives it a natural and powdery elegance, while the tonka bean still envelops the whole.
Lancôme miracle
Finally, this set also contains the Miracle perfume by Lancôme , a floral and fruity juice, symbol of strength and energy. Miracle de Lancôme is inspired by the dew of dawn and gives us its light breath associated with a feeling of morning freshness. Here, the magnolia dominates and cools down with zesty tones before enriching itself with a few spices.