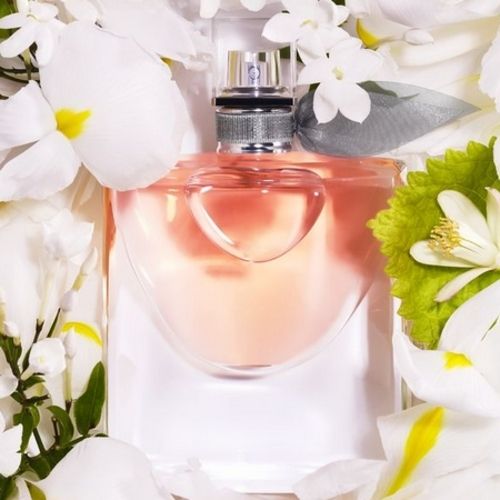 Founded in 1935 by Armand Petitjean, the Lancôme house has always been synonymous with elegance, femininity, very representative of French luxury. Through research and development, Lancôme wanted to give each woman the opportunity to flourish. Regarding perfumes, Armand Petitjean explains "Perfume is the buttonhole flower, skincare, daily bread". Many olfactory successes are owed to Lancôme, such as "Trésor, Ô de Lancôme, Magie Noire, Hypnose" and "La Vie est Belle". Released in 2012, the latter has become an iconic fragrance for the Lancôme house .
La Vie est Belle, a philosophy of life
"La Vie est Belle" is an exceptional perfume, but it is not just a perfume. Indeed, by conveying a message of optimism "Yes, life is beautiful!" », The fragrance is situated like a true philosophy of life. This fragrance of happiness was placed at the top of the favorite perfumes of French women in 2014, dethroning the famous "J'adore" by Christian Dior .
"La Vie est Belle" is considered a feminine ideal, because it combines grace, beauty and lightness. "La Vie est Belle" is a true philosophy of life, a choice of life, a perpetual quest for happiness. With "La Vie est Belle", each woman has the opportunity to choose her life, and to wish it always more beautiful. Happiness is captured in a new essence which represents, in particular, the first gourmet iris.
The gourmet iris at the heart of La Vie est Belle
"La Vie est Belle" owes its success to three talented perfumers, namely Dominique Ropion , Anne Flipo and Olivier Polge . It took them no less than 5521 attempts to create "La Vie est Belle". The latter was created around different iris accords, including "Florence Iris Pallida", one of the most prestigious ingredients in perfumery. Both gourmet and oriental, "La Vie est Belle" is made with no less than 63 ingredients.
"La Vie est Belle" opens with fruity notes of pear and blackcurrant. The heart is loaded with irises and illuminates the whole composition. The base transports us to an unexpected oriental delicacy with the presence of praline, vanilla, tonka bean and patchouli. As for the bottle, it is just as luminous.
It simply represents the grace of a smile as inscribed in the crystal. At its neck, the bottle proudly displays an organza ribbon tied with two freedom wings. One last fatal touch, and not the least, the presence of Julia Roberts as the muse of "La Vie est Belle". With a smile like that of the beautiful American, no one will be able to resist the divine essence that is "La Vie est Belle".
More than a fragrance, "La Vie est Belle" is a hymn to happiness, a wonderful statement from the Lancôme house which tells us "Yes, Life is Beautiful", so take advantage of it…