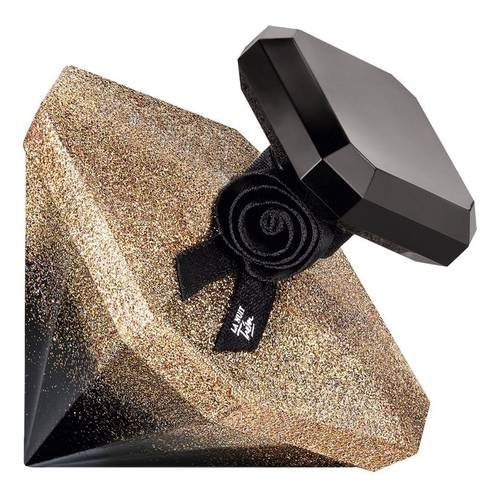 Lancôme's Nuit Trésor reveals its festive outfit in a 2018 Limited Edition
The Lancôme house is an expert in limited editions of perfumes. Indeed, all occasions are good to offer its most famous fragrances new bottles. Lancôme likes to please and as such delights fans of the brand as well as collectors. If the brand had already deployed more sparkling notes on the iconic La Vie Est Belle perfume, this time it is La Nuit Trésor's turn to put on its festive outfit! Its 2018 Limited Edition shines brightly, one more opportunity to offer this perfume, discover or rediscover its scent, and celebrate the transition to the year 2019 as it should!
The new bottle of La Nuit Trésor Limited Edition 2018
Let's start by taking a closer look at this brand new bottle. The least we can say is that Lancôme has bet on glitter this time! More sparkling than ever, La Nuit Trésor Limited Edition 2018 is an infinitely elegant fragrance. Its silhouette remains unchanged and preserves its allure of old jewelry. Directly inspired by the very first Trésor of 1952, La Nuit Trésor Limited Edition 2018 is cut in a point and is sculpted like a jewel, in the purest tradition of French fine jewelry. Its multiple facets display remarkable symmetry.
The set is topped with a cap cut like an emerald. For the record, know that this stopper also evokes the shape of Place Vendôme. You will understand, Lancôme clearly plays in a prestigious register. Luxury is displayed on all sides, starting on the walls of this new bottle. Completely opaque and lacquered in black, La Nuit Trésor Limited Edition 2018 is covered in a shower of golden glitter with a very festive look. A fabric rose is always tied at its collar. Here again, the color black is required. After all, what more beautiful color to reveal its elegance in the eyes of all?
The unchanged scent of La Nuit Trésor by Lancôme
On the scent side, La Nuit Trésor Limited Edition 2018 preserves the iconic scent of the very first La Nuit Trésor of 2015. This luminous bottle thus contains a chypre and gourmet juice, initially imagined by perfumers Christophe Raynaud and Amandine Marie.
A true love potion, La Nuit Trésor Limited Edition 2018 highlights the alliance of two noble flowers: the vanilla orchid and the rose. This vibrant duo is electrified by contact with rose oxide and lychee. Incense gives it a more enigmatic depth. Patchouli forms the basis of its entire recipe, while benzoin resin gives it a more animal and smoky breath. La Nuit Trésor Limited Edition 2018 is an insolent, sensual and racy fragrance. It expresses the quintessence of luxury and femininity in perfumery, while still enveloping itself in a more gourmet note of praline.