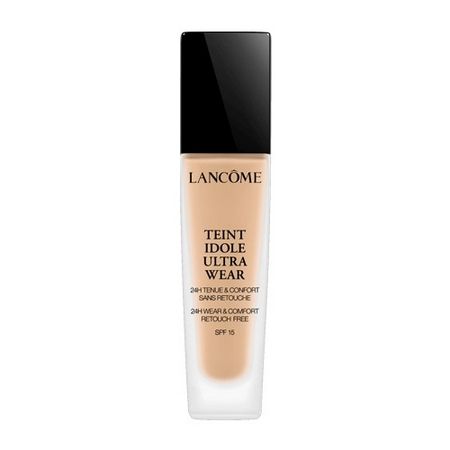 Reveal your porcelain complexion with the new Idole Ultra Wear Foundation from Lancôme
While new products are constantly appearing on the cosmetics market, such as BB Creams, for example, this does not detract from the prestige of foundations which still reign today as the kings of beauty. However, clients now seem more and more sensitive to fine textures, looking above all for a natural result that lasts over time. Also, it is precisely to respond to this problem that Lancôme has just developed its brand new Idole Ultra Wear 24-Hour Foundation .
The many advantages of Idole Ultra Wear Foundation
The Idole Ultra Wear 24 Hour Foundation has been ideally designed to give you a perfect complexion all day long. It lasts 24 hours and does not require any retouching. In addition, it is the first fluid foundation to display such hold. Its high-coverage, transfer-free formula is ideally designed to provide you with a matte finish and a unified complexion without any flaw.
However, its melting texture remains fresh and thus makes your skin perfectly pleasant to the touch, at the same time velvety, mattified and without any powdery effect. Resistant and comfortable, this product is available in 40 shades to adapt to all skin tones. This is to be applied to very clean and moisturized skin, starting with the T zone of the face, and then extending its application to the forehead, the wings of the nose, the cheeks and the chin.
You are free to choose whether you prefer to apply Idole Ultra Wear Foundation directly with your finger or with a brush. The result will be all the more natural and flawless.
Why choose a fluid foundation?
What is more, note that the fluid foundation has many advantages. Indeed, it is mainly reserved for combination skin because it does not attack or dry out the epidermis. The Idole Ultra Wear Foundation therefore appears to be a non-comedogenic product that can be worked just as much by hand as with a brush. This offers a very flexible rendering and avoids the mask effect. Finally, since it is a foundation essentially formulated with water rather than oil, it does not have the inconvenience of feeding pimples. It is therefore ideal for so-called "problem" skin.
All Lancôme know-how in a bottle
Furthermore, it should be noted that Lancôme is a recognized brand that has endowed itself with extraordinary expertise and longevity. In addition, Lancôme is a visionary brand which has never ceased to invest in research and development in order to keep up with the times.
Many women today swear by Lancôme products like the seductive Julia Roberts, Kate Winslet, Pénélope Cruz and Emma Watson. Thus, affording the new Idole Ultra Wear Foundation is a bit like getting a part of their elegance. So what are you waiting for to access a dream share?