Dare to wear makeup in summer, yes! But which one? The year 2014 has already started well, it is high time to look at the flagship beauty products for this spring / summer 2014. On the makeup side, we took a look at the fashion shows, to see what will be. the next make-up trends that will dress your skin all summer long, to the rhythm of the catwalks.

Spring Summer 2014 Makeup
Spring / Summer 2014 Make-up in Vogue
Guerlain – Rouge Automatic / YSL – Rouge Pure Couture
Pink on your mouths
Buy the Rouge Pure Couture The Mats 204 Scandal Rouge by Yves Saint Laurent and the Automatic Rouge 142 Fleur de Feu by Guerlain at a low price in your Fragrenza Perfumes online store.
Make way for pink for spring, but also for summer. The pink invites itself on all the mouths, to boost your nude complexion. Pink will bring you luminosity on your face tanned by the summer sun. Pink goes with all outfits, and is suitable for all skin types. Choose a dark pink, if you have a pale complexion, it will make your lips plump and sexy. For darker skin, opt for a lighter coral pink, which will illuminate your face.
Let's recap for this spring / summer 2014, I choose:
– For fair skin: Rouge Pure Couture, 204 Rouge Scandal, from Yves Saint Laurent, The Mats.
– For dark skin: 142 Fleur de Feu, Rouge Automatic, from Guerlain.
Discreet eyeliner for the eyes
Buy Guerlain Long Wear Fluid Eyeliner and Clarins Instant Liner Eye Liner at low cost at your Fragrenza Perfumes online store.
With the heat, makeup does not hold up very well, we tend to sweat and this annoys most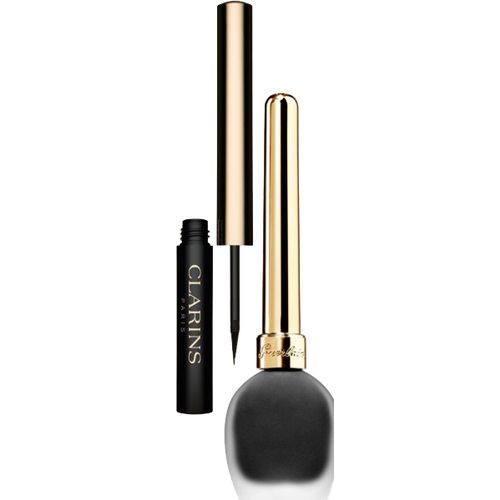 of women. What could be more ridiculous than to end up with a shiny forehead, red cheekbones and runny mascara… This summer, for your eyes, use a discreet eyeliner with a light hand. The black line that crosses the eyelid is THE trend of this year.
You should know that the eyeliner does not have to be applied generously, you have to know how to find the right balance, so as not to look like a panda. So the trend for this year is the rather thin line on the eyes to highlight the lash line. We adopt it with a nude complexion and without red on the lips, or only with a gloss.
Let's avoid too loud colors on the lips which could overload the face. Because, contrary to popular belief, the eyeliner is enough to make up the face, so ladies, no need to overdo it.
For spring / summer 2014, I opt for the Guerlain eyeliner, Long Wear Fluid Eye Liner.
For smaller budgets, the Clarins Instant Liner Eyeliner, is perfect for precision, designed for amateurs and beginners in makeup.
Lancôme – Miracle Air de Teint
Le Teint Nude
Acheter le fond de teint Miracle Air de Teint Lancôme pas cher sur votre parfumerie en ligne Fragrenza Perfumes.
La mode pour ce printemps/ été 2014 est le teint nude… Ce qui veut dire une peau quasi nue, un maquillage 100 pour 100 naturel. Seulement, si on observe bien, il y' a un petit peu de triche là dessous.
Utiliser un fond de teint très naturelle sur des tons clairs, (tout dépendra de votre couleur de peau), j'opte alors pour le Lancôme Miracle Air de Teint. Qui donne un effet très naturel quand on l'applique sur le visage. Il donnera une sensation de fluidité sur la peau, en plus de gommer les imperfections, il hydrate la peau et réveille le teint. Votre teint est unifié et l'effet "nude" est garanti. Le Miracle Air de Teint de chez Lancôme existe également dans des teintes plus mâte.
Sisley – Ombre à Paupières
Le Fard à paupière blanc
Acheter l'ombre à paupières Phyto-Ombre Eclat 18 Snow Sisley pas cher sur votre parfumerie en ligne Fragrenza Perfumes.
Après le teint nude 100% naturel, quoi de plus léger et lumineux qu'un fard à paupière blanc. C'est la fragrenza pour cet été. Votre regard sera illuminé d'un halo blanc et pour donner cet effet lumineux et clair, l'application se fait à l'aide d'un fard à paupière blanc que l'on applique en aplat.
Pour illuminer mon regard tout l'été, j'opte pour : Phyto-Ombre Eclat 18 Snow Ombre à Paupières de chez Sisley.
Clarins – Crayon à sourcils
Des sourcils en abondance
Acheter le Crayon à sourcils Maquillage Sourcils Clarins pas cher sur votre parfumerie en ligne Fragrenza Perfumes.
La mode depuis quelques mois se tourne vers les sourcils. On les aime bien dessiné, dense et épais. Bien, qu'il y a quelques années en arrière, la pince à épiler était la meilleure amie de toute. Aujourd'hui on veut des sourcils bien appuyés et en abondance qui accentue le regard.
Pour cela, j'opte pour : le crayon sourcils, maquillage sourcils de chez Clarins qui redonnera vie à votre sourcil, en le redessinant. Un conseil, utilisé un crayon de la même teinte que votre sourcil, et soyez généreuse sans trop appuyer sur votre sourcil, qui pourrait donner un effet "marionnette". Ensuite, à l'aide de la brosse, brosser votre sourcil de la gauche vers la droite. Avec tous ces éléments vous serez la reine de la mode beauté tout l'été.
Retrouvez les au meilleur prix chez notre partenaire – Fragrenza Perfumes ainsi que tous les produits de la brand Yves Saint Laurent, Guerlain, Lancôme, Clarins, Sisley.