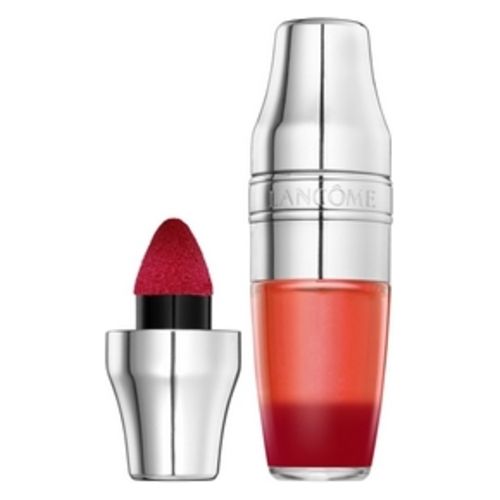 For spring 2016, the Lancôme house decided to unveil a whole new range of lipsticks. The Juicy Shaker collection will soon see the light of day and is touted as an assortment of two-phase lipsticks. In other words, Lancôme offers you products ideally designed to take care of your mouth while embellishing it with a magnificent bright color. Their non-sticky formula is particularly innovative. It is ideally designed to last throughout the day and will soon allow you to vary the shade of your lips endlessly according to your desires, your mood, or the occasion.
The colorful expanse of the new Juicy Shaker
Juicy Shaker is a revolutionary product. Indeed, it is a cosmetic halfway between gloss, skincare, and lipstick. It is available in twenty different colors. Nevertheless, it offers the possibility of infinitely varying the colors. Indeed, Juicy Shaker contains a liquid product combining a mixture of oils with colored pigments.
There, several solutions are available to you. If you go for a very light color bordering on transparency, just don't shake the bottle. Thus, you will simply leave a shiny touch on your mouth suitable for all occasions and showing great discretion. However, the same bottle can also offer you a very intense and particularly pop color. In order to obtain it, you just need to shake the case of your Juicy Shaker. The more you shake its container, the more the pigments will mix with the oils. The color obtained will then be even more enhanced. Of course, Juicy Shaker is a non-sticky product that is ideally designed to cover your lips in a blazing color all day long.
A treatment developed by Lancôme
However, if oils have been added to the composition of this lipstick, they are not only used to nuance the color. Indeed, Lancôme has taken care to create a product whose goal is to take care of your mouth. Juicy Shaker is therefore enriched with peach kernel oil. The latter is known for its nourishing and softening properties. In addition, this lipstick also contains cranberry oil packed with antioxidants and omega 3 and 6. In addition, the latter also help reduce the humidity of the lips. Sweet almond oil, on the other hand, reinforces the smoothness of your mouth while rose oil regenerates and soothes it. In addition, Juicy Shaker has a conical foam applicator. This perfectly adopts the shape of your mouth and thus makes the application of this lipstick as easy as it is enjoyable. Indeed, its soft texture is particularly soft to the touch and your mouth will only be satisfied. With the new Juicy Shaker, Lancôme is once again showing great creativity. The talent of this great brand never ceases to amaze us and will once again help increase female beauty.