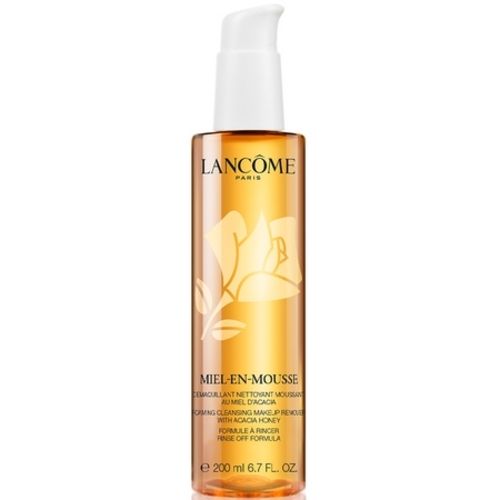 Miel en Mousse from Lancôme, an oil, a makeup remover and a cleansing foam in one and the same product!
All skin professionals agree that cleansing the face is essential to maintain a certain youthfulness of the epidermis and a daily glow. Cleansing rids the skin of impurities accumulated during the day and allows it to breathe better. Thus, it can be renewed and this prevents it from losing its radiance and drying out, letting some premature wrinkles appear in the process. Anxious to help you in this daily task, the Lancôme brand has implemented a brand new product. This one is called Miel en Mousse and can be transformed according to your needs .
Why is it so important to cleanse your skin?
If dermatologists insist so much on the need to cleanse the skin, it is quite simply because it is an essential step to keep the epidermis radiant with youth. In the morning, cleansing the skin eliminates the sebum accumulated during the night. Likewise, it wicks away perspiration and dead cells linked to cell renewal. In the evening, make-up removal removes traces of make-up but also the effects of pollution, impurities and sebum. Thus, after this cleansing, your skin will be able to renew itself better and breathe freely.
The innovative formula of Miel en Mousse
Lancôme's Honey in Mousse formula is particularly ingeniousand completely new. This "sensory makeup remover" offers you a unique and totally fun cleansing. On the one hand, note that this product is enriched with a delicate scent of acacia honey. Thus, removing makeup instantly becomes a real moment of pleasure. Its melting texture, for its part, leaves behind a particularly silky skin. When you apply this product to dry skin, its base texture transforms into an oil thought to help you dissolve your makeup. Then, when Lancôme Miel en Mousse is added to water, its oil becomes a creamy foam allowing the elimination of impurities. This formula allows you to remove daily makeup with extreme softness. Lancôme Miel en Mousse thus leaves behind perfectly clean and radiant skin.
Lancôme application advice
At the same time, to ensure optimal efficacy of this product, Lancôme gives us some application tips. First of all, start by taking two to three hazelnuts of this treatment by simply pressing on its spray pump. Then apply it all to your dry skin and massage until its texture turns into an oil. What is more, by performing this daily massage, you will also promote blood circulation to your face. It will also help make it brighter and smoother. Then, once this step is done, add a little water on your skin and continue massaging. You will thus obtain a creamy emulsion allowing you to eliminate impurities. Then all you have to do is rinse and admire the result. However, be very careful, Honey Foam is not suitable for removing make-up from the eyes. It is only suitable for cleaning the skin of the face.