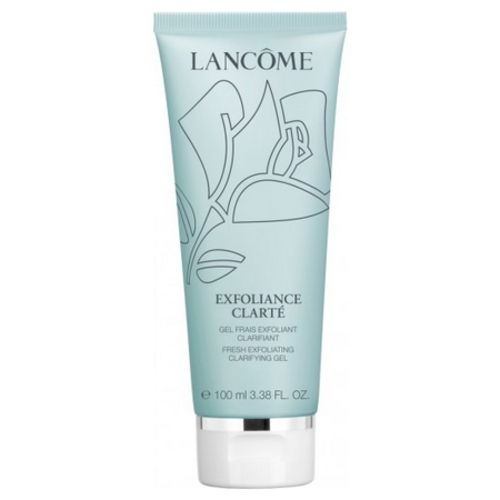 80 years after its creation, the Lancôme brand is the world leader in luxury cosmetics. The brand is now present in 135 countries, where it is distributed through a network of 20,000 points of sale. Lancôme is glamorous muses, iconic products, but it is also sixteen research centers and more than 3,000 researchers specializing in dermatology, biology, biophysics and biochemistry. This constant requirement has enabled Lancôme to offer high quality products and treatments , including "Exfoliance Gel Clarté Exfoliant".
Lancôme Exfoliance Clear Exfoliating Gel
Lancôme "Exfoliance Gel Clarté Exfoliant" is a fresh exfoliating and clarifying gel that is perfectly suited to normal to combination skin. In true "anti gray-mine", this fresh and blue gel contains micro-pearls of white wax, as well as exfoliating micro-grains which remove dead cells and impurities gently. The white wax micro-pearls contain salicylic acid and are associated with polyethylene grains to ensure a mechanical exfoliating action perfectly suited to normal and combination skin. This action is reinforced by the enzymatic cocktail of pineapple and papaya which will smooth the skin, tone it and wake up its radiance.
Lancôme Exfoliance Exfoliating Clarity Gel, instructions for use
Apply your Lancôme gel to your moistened face and neck, once or twice a week, depending on your skin's needs. Then distribute the product in several circular movements. Then rinse your face thoroughly with lukewarm water. Remember to avoid the eye area.
Lancôme "Exfoliance Gel Clarté Exfoliant" is a gel with an ultra-fresh texture for combination and normal skin. With your Lancôme gel, your skin is toned and its radiance is now awakened.