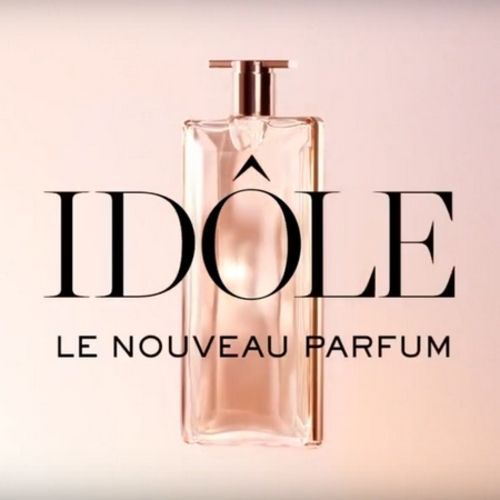 Idôle by Lancôme, in a new very feminine and floral advertisement
The Lancôme house has just formalized the release of a new fragrance : Idôle, which will begin marketing on August 22, 2019. In the meantime, to present its new blockbuster to us, the brand has already designed a first advertisement . It must be said that the perfume in question was eagerly awaited, Lancôme having not launched new feminine fragrances since 2012 and the release of La Vie Est Belle… So what is the message conveyed by this new essence? Who is the face of the new Idôle perfume by Lancôme? We tell you everything!
The Idôle perfume by Lancôme, in a few words …
The Idôle perfume by Lancôme was designed by three perfumers, namely Shyamala Maisondieu, Adriana Medina and Nadège Le Garlantezec. Together, they imagined a floral, chypre and musky essence, described as being a "generous and sparkling with light" fragrance. Its composition is both fresh and immaculate, while highlighting the star flower of the Lancôme house: the rose. Present in different forms, it displays here an incomparable relief. Idôle combines exclusive Isparta rose, Centifolia rose absolute from Grasse, rose absolute and rose water. An extreme femininity immediately reappears from this juice.
The rose, a central element of Lancôme advertising
Logically, the advertising launch of Idôle clearly highlights this floral ingredient. The rose is revealed there in all its forms. Presented on a black background, then lit by a clean white background, it fascinates with its purity and rosy beauty. In reality, it is not a single rose that is in the spotlight here. The varieties of this flower follow one another at high speed, as if to highlight all the richness of this perfume. Lancôme's innovative bottle, described as "the thinnest in the world", is also featured in this advertising campaign.
Zendaya, the new face of the Idôle perfume
However, note that this will not be the only advertisement for the Idôle perfume. Indeed, the brand has already presented its new muse, yet absent from this first television spot. For the occasion, Lancôme has set its sights on Zendaya, a young Hollywood star recruited a few months earlier by Lancôme. Singer, actress, model, dancer and producer, Zendaya is one of today's biggest rising stars. "I am very honored to represent a brand such as Lancôme and to join an incredible group of emblematic women," she confides for the occasion.
Idôle by Lancôme, a fragrance synonymous with freedom
Sur tous les fronts à la fois, Zendaya incarne mieux que quiconque l'image du nouveau parfum Idôle, imaginée comme une « page blanche sur laquelle chaque femme peut commencer à écrire son histoire ». « Nous sommes ravis de créer un parfum pour une nouvelle génération de femmes qui remettent en question le status quo, qui se libèrent des traditions et qui redéfinissent la signification du succès », ajoute Françoise Lehmann, présidente de Lancôme Global Brand. « Cette nouvelle assurance les incite à constamment mettre la barre un peu plus haut.