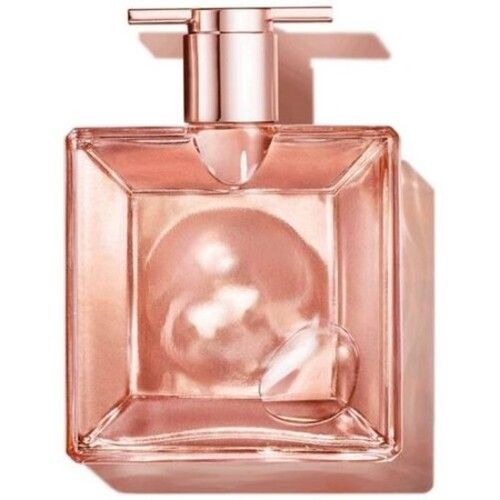 Idôle L'Intense by Lancôme, a new breath of fresh air for daring women
In 2019, the Lancôme house decided to make people talk about it with the release of a new feminine fragrance called Idôle. Presented in the thinnest bottle in the world and highlighting a modern femininity based on rose and jasmine, it was immediately acclaimed by the public. Today, in 2020, it is back on the front of the stage and is available in a new edition called Idôle L'Intense. This time, more than ever, it leaves an indelible mark in its wake, specifically designed for daring and free women.
The Lancôme woman, a modern and determined seductress
Idôle L'Intense is designed for a young woman who is divinely beautiful, but who does not seduce only with her physique. She is above all a strong creature, not hesitating to challenge the world and set out to conquer her freedom. Her daily life boils down to galloping towards the life she has chosen. Idôle L'Intense is aimed at "the leaders of tomorrow, glorious and luminous, igniting the flame of success and enlightening the voice for others". This fragrance seems designed for all those "whose aura radiates success and greatness, inspiring the idols that reside in each of us". On screen, this role is played by actress Zendaya, known for her outspokenness and overwhelming ambition. Lancôme says he saw in her "the standard bearer of a whole new generation of women who question the status quo,
Idôle L'Intense sublimates rose and jasmine
Idôle L'Intense reappropriates the star ingredients of the Lancôme house, namely rose and jasmine. Here, Lancôme chooses to mix two varieties of roses to obtain more relief. It is about the rose of Grasse, soft and timeless, associated with the rose of Isparta, greener. A trio of jasmine gives the whole a velvety texture. Other fruits such as bitter orange or tangerine give it a delicious and tangy freshness. The musk underlines the sensuality of the whole, while enriching itself with a woody trail of cedar, patchouli, acacia, cashmere and sandalwood. Finally, bourbon vanilla here reinforces the suave breath of this feminine composition.
The surprisingly thin Lancôme bottle
Like its predecessor , Idôle L'Intense comes in a particularly fine bottle. A true technical feat, it is only 15 mm thick, which greatly facilitates its handling. Nomadic, it is an object designed to never leave women. As elegant as it is light, it relies on the transparency of a dark pink color. Metallic shards are also now appearing on its bottle, both on its back and on its sides. Perfectly timeless, the Idôle L'Intense bottle seems designed to resist fashions and trends. Better yet, it is rechargeable and is therefore designed to limit its impact on the environment.