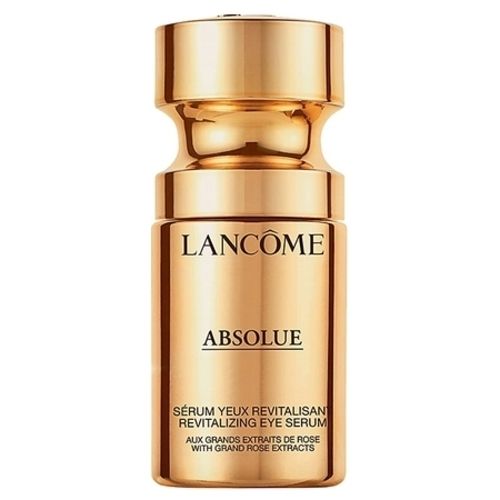 Lancôme Absolue Revitalizing Eye Serum, the key to a younger look for longer
The skin is the element that usually betrays the age of a person the most. Over time, it undergoes a metamorphosis and reveals unsightly signs such as wrinkles, loss of radiance or bags under the eyes. If this phenomenon is completely natural, there are many women who dream of escaping it! To support you in this daily challenge, Lancôme continues to enrich its beauty products department with always very successful skincare products. This time, the focus is on your eyes, one of the most fragile areas of your face and the most marked by the signs of aging. Focus on Lancôme Absolue Revitalizing Eye Serum.
The gaze, a very fragile area
First and foremost, it is important to understand why the gaze is a specific area. First of all, the skin there is particularly thin. Five times thinner than on other areas of your face, it is also devoid of sebaceous and sweat glands. Poor in elastin and collagen, it is also less flexible and less plump. However, it is attached to 22 muscles and suffers the full force of all the aggressions of your environment such as UV rays, cold or pollution. Generally, the eye contour undergoes an average of 10,000 eyelid movements per day.
All these elements tend to weaken it. Little by little, the gaze changes and loses its youth. It becomes duller. Pockets are emerging. The first wrinkles set in. To deal with this phenomenon, specific care is required! This is where Lancôme Absolue Revitalizing Eye Serum comes in!
Absolute Revitalizing Eye Serum, a highly concentrated treatment
Lancôme Absolue Revitalizing Eye Serum is a treatment that is applied daily, alone or before your usual eye cream. In this case, it serves to increase its effectiveness thanks to its infinitely concentrated formula. Absolue Revitalizing Eye Serum is used on perfectly cleansed skin, preferably in the morning and evening. From then on, it envelops your skin surface with freshness and deposits a silky and protective film.
Lancôme Absolute Revitalizing Eye Serum is aimed at all women looking for a regenerating and radiance revealing product. Designed based on natural ingredients, and more particularly rose extracts, it preserves the fragility of the skin and is suitable even for the most sensitive skin. Developed without perfume, it deploys several benefits simultaneously and on its own fights all signs of aging such as dark circles, wrinkles, lack of radiance or the creation of puffiness. Day after day, it makes the face more radiant and the eyes brighter. The outline of your eyes appears smoother and more rested. He becomes younger and more expressive.
With Lancôme Absolue Revitalizing Eye Serum , no one will ever know how old you really are!