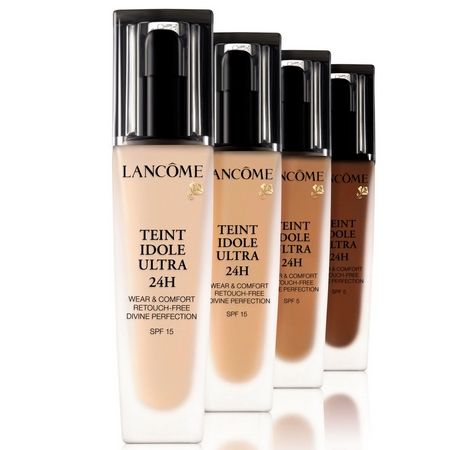 Pimples, imperfections, redness, blackheads… Having smooth skin every day is sometimes a real obstacle course. Add to that the fact of maintaining a sublime result throughout the day and the mission becomes almost impossible! However, this is not inevitable. Indeed, Lancôme has set up a foundation with exemplary hold and perfect coverage without lacking in naturalness. Here is your new beauty ally: the Teint Idole Ultra 24H .
Lancôme's successful research
When it comes to beauty, Lancôme has understood that science is essential. This is why the brand has always invested in research to better understand the secrets of beauty. Each of the house formulas contains many active ingredients and ever more advanced technologies with the aim of improving the visible results on your skin. Also, no less than eight years of research were necessary for the Lancôme house to create the first foundation to last 24 hours. Dermatological tests have proven that this product is able to withstand any challenge. "Without retouching, the complexion remains sublime with perfection. Without shine. Flawless. Unified. "
These tests were carried out on 109 women during active and stressful days. The Eternalsoft technology contained in Teint Idole Ultra 24H makes this product particularly effective and surprising. What's more, its finish is both satin and matte. It ensures a flawless complexion without the use of a powder afterwards. Furthermore, it should be noted that its fluid texture allows for particularly flexible coverage. In addition, this is accentuated by its availability in 18 shades allowing this foundation to perfectly match your skin tone for an absolutely natural look.
Le Teint Idole Ultra 24H, a ritual of pleasure
What's more, Lancôme didn't stop at developing a long-lasting formula. Anxious to bring the best to its customers, the brand has made its product a pleasant care to apply on a daily basis. Teint Idole Ultra 24H has a "soft and fresh" texture that is easily applicable. What's more, it is embellished with a delicious scent of rose. Its moisturizing active ingredients also make it possible to never dry out the skin. Thus, it delivers a feeling of comfort throughout the day and protects the epidermis from possible external aggressions. Never has a foundation seemed to have kept its promises so well. Its color does not oxidize under the effect of the secretion of sebum. It ensures a mat complexion without powdery effect, perfectly even and zero blemishes. Teint Idole Ultra 24H is undoubtedly the everyday gesture that all "makeupistas" around the world should know. Today it is considered to be a must have in your makeup bag.