Lancôme reinvents its most famous mascaras in original boxes
With its small brush soaked in product, mascara is an essential beauty product. It allows you to catch each eyelash one by one to accentuate its curvature, length and volume. Mascara is one of the best-selling beauty products on the planet.
It must be said that there is no equal for perfecting feminine beauty! In a single pass, it amplifies the gaze, creating a real spell! The Lancôme house continues to perfect this product and today offers a very wide range of different mascaras . These are now gathered in multiple boxes that we invite you to discover.
The Lancôme Hypnôse Mascara Set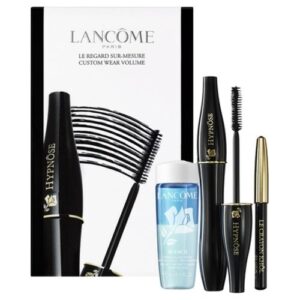 Let's start by presenting you the set of one of Lancôme's most famous mascaras: the Hypnôse Mascara . This little make-up tool has become the brand's best-seller and almost every fashionista on the planet has already coveted it. This makeup product increases the volume of the eyelashes like never before. It amplifies it up to 6 times without ever creating bunches.
Its brush slides over the eyelashes and separates them, so as to distribute the material evenly. Hypnôse Mascara leaves behind a soft and supple look, perfectly natural. Its box also contains a Khôl Noir Crayon which only increases the sensuality of your gaze. It also comes with a 30ml Bi-Facil Eye Make-up Remover which will facilitate your cleansing gently.
The Lancôme Hypnôse Drama Mascara Set
The Hypnôse Drama Mascara, on the other hand, is designed to attract all eyes. Then again, the idea is to amplify the volume of your eyelashes and make your eyes more sensual than ever. Now, they could become your greatest asset, even if your lashes usually go unnoticed. For this, the Hypnôse Drama Mascara relies on an original brush, extra large and forming a unique curve.
This tool ensures optimal contact with the eyelashes, which gives an absolutely perfect make-up of your eyes. Thanks to Hypnôse Drama Mascara, your eyelashes are perfectly coated and made up from root to tip. In its boxed format, the Hypnôse Drama Mascara is also accompanied by the Crayon Khôl Noir from Lancôme and the Bi-Facil Eye Make-up Remover of 30 ml from the brand. Thus, your eyes will be made up with intensity during the day but will also be gently cleansed once the evening comes.
The Lancôme Hypnôse Volume à Porter Mascara Set
The Hypnôse Volume à Porter Mascara focuses more on naturalness and ease of application. It makes makeup easier than ever and thus avoids making the slightest misstep. Its fluid texture can be worked on at will and your gesture becomes perfectly unmistakable. In a single pass, your eyelashes are dressed in elegance. The intense black color of Hypnôse Volume à Porter Mascara remains naturally disturbing. With him, everything is flexibility and lightness.
As always, the intensity of your gaze can be further amplified by applying the Crayon Khôl Noir from Lancôme provided in this set. It comes with the brand's Bi-Facil Eye Make-up Remover 30ml to facilitate gentle cleaning of your eyes.
The Lancôme Grandiôse Mascara Set
Lancôme's Grandiôse Mascara reinvents the art of applying make-up and in particular unveils a brand new brush. It offers us all of Lancôme's know-how in a specially patented Gooseneck upper. Its unique shape makes it possible to make up the eyelashes from the root and to deploy all their natural intensity.
The Mascara grand Lancôme is ideal to catch every lash, even the smallest being in the corner of your eye. Nothing can resist it and a simple pass intensely covers your eyes, without even having to bend your brush or force your wrist. The effect obtained is simply spectacular. Finally, here again, know that the Lancôme Grandiôse Mascara Set contains, like its predecessors, the brand's Khôl Noir Crayon as well as a 30 ml Bi-Facil Eye Make-up Remover.
The Lancôme Hypnôse Doll Eyes Mascara Set
Finally, the last mascara from this panel of boxes: the Hypnôse Doll Eyes Mascara. With it, as its name suggests, the idea is to create a real doll look for you. The Hyp Mascara
nôse Doll Eyes magnifie les cils en leur offrant plus de longueur et un galbe incroyable. Il gaine le regard sans jamais créer de surcharge. Sa brosse de forme conique glisse facilement et vos yeux se métamorphosent ainsi en un simple passage. Leur intensité semble se démultiplier et vos cils sont alors audacieusement recourbés et parfaitement séparés.
Qui plus est, une fois n'est pas coutume, le coffret du Mascara Hypnôse Doll Eyes de Lancôme contient, comme toujours, le Démaquillant pour les Yeux Bi-Facil de 30 ml de la brand. Cependant, il s'accompagne cette fois de l'Effacernes Longue Tenue, de quoi gommer tous les petits signes de fatigue qui pourraient ternir votre joli minois.
Vous l'aurez compris, à travers ces coffrets, la maison Lancôme compte bien offrir à ses clientes les plus beaux des regards. Chacun des mascaras de l'enseigne démultiplie le volume des cils tout en conservant un aspect très naturel. Ils gainent le regard chacun à leur manière et s'accompagne pour cela d'outils brevetés et inédits, résultant de recherches très poussées en matière de cosmétiques. Ainsi, avec les Coffrets de Mascaras Lancôme, c'est un véritable maquillage professionnel qui s'offre à vous !