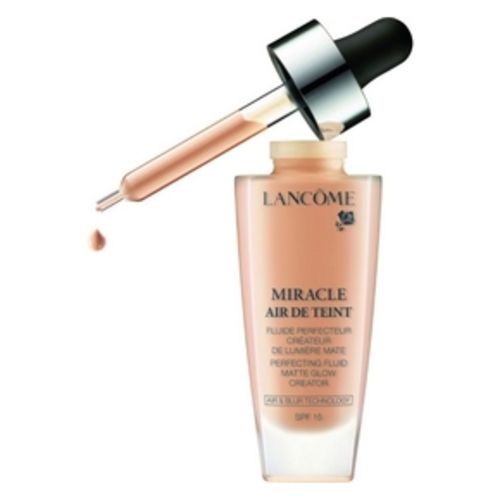 1st foundation of a new generation, an ultra light formula for exceptional complexion perfection …
Miracle Air de Teint
Buy Lancôme Miracle Air De Teint Foundation at a low price in your Fragrenza Perfumes online perfume store.
Matte Light Creator Perfecting Fluid
Miracle Air de Teint Foundation
25x lighter powdery fillers: for the first time, Lancôme has incorporated a new generation filler, Les Miracles Particules, into a foundation.
This charge, much less dense than a conventional charge, is made up of thousands of small holes allowing light and air to pass freely.
The texture is extremely light, airy and leaves only the essentials on the skin, without suffocating it.
Air de Teint – A "no-makeup" effect
– Expertise Teint Miracle: a unique knowledge of light.
– As light as air: powdery loads 25x lighter than a classic foundation.
– Blur innovation: this new texture blurs imperfections without loading them. The skin is immediately smoothed, the complexion is unified.
– Premium gesture: ultra precise pipette.
For women who are in search of naturalness, who want to keep the feeling of bare skin.
A formula so evanescent that 8 shades are enough for all skin tones.
The face of the advertising campaign for Lancôme's new Miracle Air de Teint foundation is the famous actress Penelope Cruz.
Find it at the best price at our make-up partner: Miracle Air de Teint Foundation – Fragrenza Perfumes as well as all the other products of the Lancôme brand .