As spring approaches, we want to add some pep to our outfit, dare the colors and also the varnish. It's time to let go, because this summer flash colors are in the spotlight on our nails! We are already presenting (and yes!) The nail polish collections for spring-summer 2014! And besides, the crucial question which is always the same, what are the colors to wear for spring summer 2014? : Fuchsia, coral, metallic purple, pastel, emerald green, lemon yellow or turquoise blue you can dare anything for this spring summer 2014. Here is a selection of varnishes to wear on your fingertips or on your toes once summer arrives
Spring Summer 2014 Trendy Varnishes
This year I dare the color, but I choose which varnish? We have selected several ranges of varnishes for you, and there is something for everyone!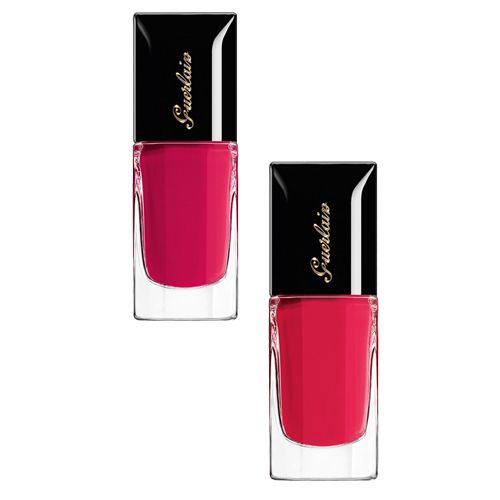 For sensual colors
I opt for Laque Guerlain 263 A La Parisienne and Laque Guerlain 165 Champs-Elysées .
An essential ally of accomplished femininity, Color Lacquer is the promise of exalted beauty to the tips of the nails. the colour. Nitrocellulose forms a flexible and elastic film that attaches to the nail perfectly. Perfectly restored, the shades display a lacquered shine for days on end.
The Color Lacquer is equipped with an exclusive large and extra flat facilitating brush, which follows the shape of the onge and deposits the ideal dose of varnish for a uniform application from the first coat. A design perfectly coordinated with the design of Cils d'Enfer and Gloss d'Enfer. Laque Couleur comes in ten vibrant must-have shades to match the iconic hues of Guerlain lipsticks.
Little tips step by step:
1. I apply a protective base. This protective film facilitates an ideal application of the colored varnish, without risk of yellowing of the nail.
2. A Color formula equipped with adhesion resins, this varnish is easily and evenly applied. A thermoplastic acrylic resin optimizes perfect color retention.
3. An innovative gel top coat. The transparent gel texture guarantees a "false nail" result and exceptional shine.
For pastel colors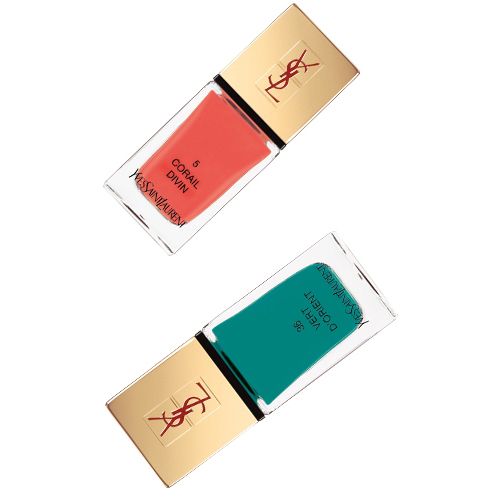 I opt for the Yves Saint Laurent Couture Laque 5 Corail Divin and the Yves Saint Laurent Couture Lacquer 36 Vert d'Orient .
Give in to the urge of color on the nails. Carry it as a standard. Couture to the tips of her nails, the YSL woman devotes herself to color. She wouldn't go anywhere without this essential accessory, THE inseparable touch of an outfit.
Besides, it changes varnish like bags or shoes. Insatiable, his hands take hold of the pure color like an Arty manifesto. Lloyd Simmonds Makeup Art Director Yves Saint Laurent signs the La Laque Couture collection.
30 colors to awaken the creative instinct. A veritable vernithèque, La Laque Couture composes a kaleidoscope of fetish colors, inspired by YSL creations and artistic heritage such as majorelle blue, timeless fuchsia, tuxedo black, Saharan beige and also original colors inspired by the new Yves Saint Couture collections. Laurent appointed by Stefano Pilati.
For romantic colors
I opt for Vernis In Love by Lancôme 441N Midnight Rose and Vernis In Love by Lancôme 343B Rose Pitimini .
Extreme shine and long-lasting formula. A modern and elegant pack, a new high precision applicator.
Lancôme présente Vernis in Love : 22 teintes ultra-brillantes, tendances, longue tenue et facile à porter. Jouez avec les couleurs et adoptez les 11 duos complémentaires à utiliser alternativement sur les pieds et les mains ou pour les vraies fashionistas en French Manucure.
Pour des couleurs flashy
J'opte pour Un vernis différent de Clinique 04 Hi Sweetie et Un vernis différent de Clinique 05 Really Rio.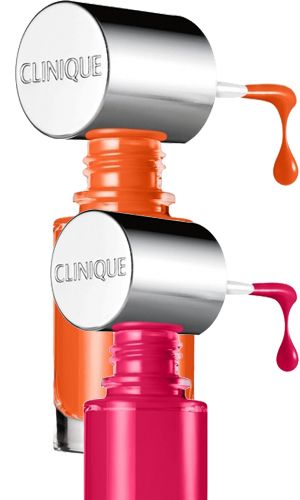 Après six ans de recherche et de développement produit, Clinique présente une innovation pionnière dans l'industrie des vernis à ongles: le Vernis Différent Pour Peaux Sensibles.
De nombreuses personnes n'ont pas conscience du lien entre leurs allergies des yeux et leur vernis à ongles !
Étant considérés comme des allergènes par les dermatologues, Clinique a développé des vernis à ongles spécialement formulés pour minimiser les risques d'allergie pour les ongles mais aussi pour la peau et pour les yeux.
Grâce à sa formule très douce qui s'applique facilement, sèche rapidement et ne fait pas de stries, le nouveau Vernis Différent Pour Peaux Sensibles offre une tenue irréprochable et un fini ultra brillant et glossy.
Un éventail de 12 couleurs sublimes vous permettra de mettre de la couleur dans votre vie !
Retrouvez les au meilleur prix chez notre partenaire – Fragrenza Perfumes ainsi que tous les produits de la brand Guerlain, Yves Saint Laurent, Lancôme, Clinique.