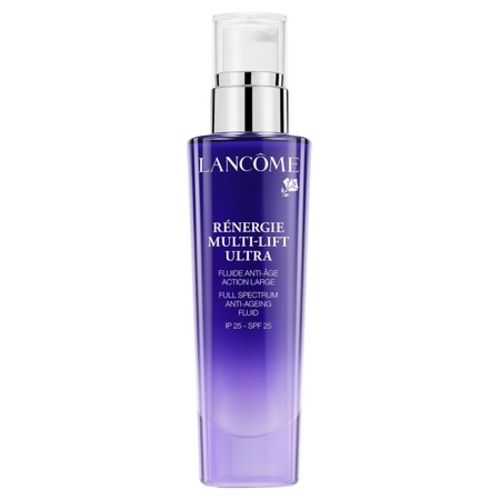 Lancôme Rénergie Multi-Lift Ultra Fluide, anti-aging and sun protection
Lancôme is one of the most impressive brands in the beauty and cosmetics market. A true pioneer in the field, Lancôme continues to increase its research and today enjoys worldwide renown as the quality of its products is irreproachable. What is more, Lancôme constantly demonstrates extreme innovation . This is how its line of anti-aging products Rénergie was made. However, the latter has just seen the appearance of a new product: the Rénergie Multi-Lift Ultra Fluid, a treatment combining the effects of an anti-wrinkle and sun protection.
The anti-wrinkle effect of Rénergie Multi-Lift Ultra Fluid
Rénergie Multi-Lift Ultra Fluide belongs to Lancôme's first "lifting redefinition" skincare range. This fluid aims to redraw the contours of the face and firm the skin. Thanks to it, wrinkles are visibly reduced and the contours of your face will appear smoother. For this, the Rénergie Multi-Lift Ultra Fluide by Lancôme plays on hydration. It improves cell renewal and prevents skin dryness responsible for hollowing out furrows on the surface of the skin. What's more, this formula is enriched with flax seed extract, a powerful natural ingredient that acts on the firmness of the epidermis.. The Rénergie Multi-Lift Ultra Fluid alone combines several actions. It smooths the skin, firms it and tones it. Today, it is part of the Lancôme reference range in terms of sagging skin.
Rénergie Multi-Lift Ultra Fluide SPF 25 by Lancôme against age spots
At the same time, note that with age, small pigment spots can appear on the surface of the epidermis. These are accentuated by exposure to the sun. They mainly appear on the hands, face and décolleté. Often associated with aging of the skin, pigment spots are common from the age of 40. They are triggered by an overproduction of melanin and a buildup of it below the skin surface. To overcome this and prevent their appearance, Lancôme's Rénergie Multi-Lift Ultra Fluid contains a sun protection index SPF 25. Thus, this fluid will durably protect your skin from the harmful effects of UV rays throughout the year. What is more, unlike treatments which usually contain the SPF 15 index, this is more powerful. It is therefore an excellent companion during the summer season. Likewise, flax seed extracts also act on the pigmentation of the skin and help reduce the already visible spots.
For more efficiency, Lancôme recommends applying its Rénergie Multi-Lift Ultra Fluid every morning to cleansed skin. To penetrate the product, make small rotating movements on your skin. Likewise, do not hesitate to exercise a few small pinches to stimulate blood circulation and smooth your skin.