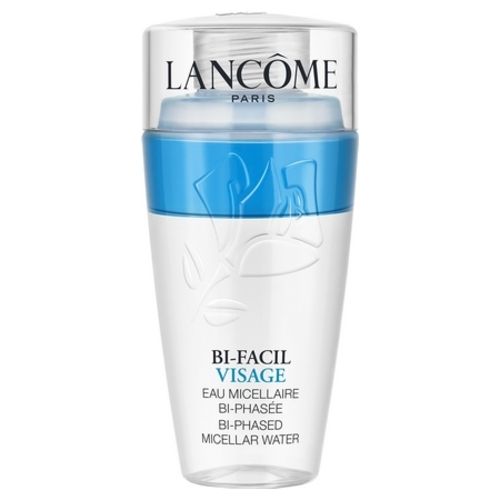 Make-up has evolved considerably over the past century. Moreover, new products such as waterproof make-up have emerged to increase the hold of your make-up, whatever the circumstances. However, the most resistant products are not necessarily easy to remove gently. To help you in this difficult task, Lancôme has just developed a brand new two-phase makeup remover called Bi-Facil Visage . From now on, softness and cleanliness will become one!
The peculiarities of two-phase makeup removers
As the name of these products suggests, two-phase makeup removers are made up of two phases: one is aqueous, that is, water-based, and the other is oily. Before use, the bottle should be shaken to mix these two liquids. Therefore, the composition of two-phase makeup removers becomes particularly effective. In addition, this type of product is absolutely essential to remove waterproof makeup. The oily part first dissolves the makeup. Then, the liquid part removes the film of the fat left by the previous product. Thus, two-phase make-up removers deeply cleanse the skin and eliminate all impurities without ever leaving unpleasant sensations behind them. Furthermore, these products are suitable for all skin types and are often very well tolerated by sensitive skin, often subject to irritation with a classic makeup remover. Indeed, as they avoid having to rub too much to remove traces of makeup, they limit the risk of redness. In other words, this is the go-to product for sensitive skin that likes stubborn makeup.
Lancôme's new Bi-Facil Visage
The Lancôme Bi-Facil Faceis therefore composed, like any two-phase makeup remover, of two distinct solutions. Its blue part constitutes its oily phase. This is used to dissolve your stubborn makeup. Its transparent part, on the other hand, is made up of micellar water and is used to eliminate the impurities accumulated during your day. Start by shaking the Bi-Facil Visage bottle before any application. Place this product on a cotton pad. Then, use it all to remove makeup from your face. This daily gesture will immediately give you a feeling of softness and freshness. What's more, the Bi-Facil Visage will allow you to gently remove impurities, makeup and sebum present on the surface of your epidermis. So your skin will breathe comfortably all night long, which will allow it to renew itself much more efficiently. As a result, thanks to Bi-Facil Visage, you will easily find all the radiance and youth of your epidermis. Indeed, effective cleansing of the face is an essential prerequisite for maintaining young and healthy skin. So, what are you waiting for to equip yourself with this new beauty ally?