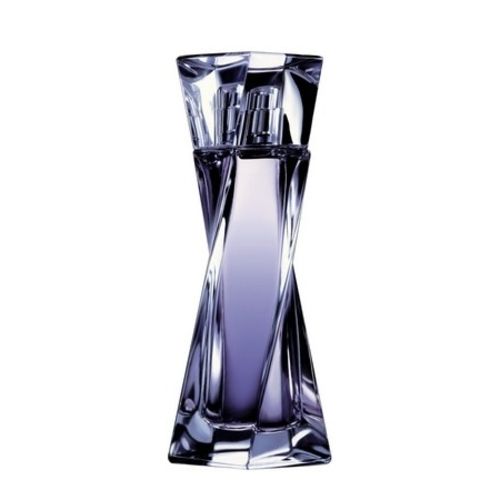 First of all, you should know that Hypnose is a special fragrance for the Lancôme house. Indeed, the latter was created to celebrate the fiftieth anniversary of the brand. Also, it's telling you if he had to be extraordinary… Everything about him is designed to arouse emotion. Its bottle is one of a kind and its blue twisted glass is captivating. Its oriental scent is delicious and fruity. The rendering is superb and its success owes absolutely nothing to the fruit of chance.
Lancôme plays on the pleasure of bewitchment
Hypnôse is a perfume that could not be more captivating. It has a bewitching side and therefore suits a woman of incredible charm, almost feline. This woman would like to play on her strengths as if to better catch us in her nets. Her greatest pleasure then is to play at seducing the man she loves. A simple glance is enough to capsize the heart of his beloved. In addition, its perfume seems to multiply its magnetism tenfold as if to better bring these two beings who attract each other. To do this, Hypnôse offers a unique accord of vanilla and vetiver. These two opposites are opposed as if to come closer together. On the one hand, vanilla brings an extreme softness, an enveloping femininity. On the other hand, vetiver plays on a more full-bodied, even more masculine atmosphere. This composition is unexpected to say the least. The woman who wears Hypnosis surprises in order to better seduce anyone who crosses her path. Then, the tangy aspect of passion enhances the whole and the heliotrope reveals powdery notes. Finally, bergamot joins the party and brings with it its share of lightness.
The hypnotic flask of Hypnosis
Likewise, the Hypnosis bottle also plays on contrasts. Indeed, its solidity comes up against its very slender appearance. Its transparency gives it a very mysterious side, all the more so as the light is reflected in multiple ways in its faceted glass walls towards different orientations. While being unique, it is surprisingly simple and presents a real architectural challenge. Moreover, let's not forget that it represents a tribute since it is very inspired by the bottle of Magie, a perfume born in 1950. The latter, as its name suggests, boasted of having supernatural powers, almost magical. Also, Hypnôse seems to have appropriated this aspect of his ancestor. In addition, this twisted shape was then designed to represent an Asian woman wearing a kimono. This perfume would then release all the wisdom. However, its manufacturing process was very perilous, especially for the technical means of the time, and it took no less than a thousand attempts to reach a conclusive result. This prestigious setting is like a jewel and only makes the woman who wears it more beautiful.