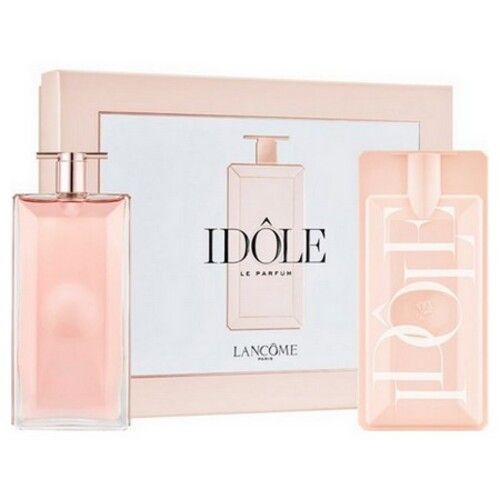 Christmas is not yet here, nevertheless the Lancôme brand has decided to offer you a gift before its time by launching its Idôle box, a real event perfume for this fall 2019. Driven with beating drum by a modern and smiling conqueror named Zendaya, Idôle has come to conquer our hearts with its soft and delicate flowers, finally allowing us to discover modernity without delicacies while being fruity, a delight that is now offered in a box!
Offer for Christmas 2020, the Idole de Lancôme box set!
Released at the end of summer 2019, Idole has become in just a few weeks the phenomenon perfume of a whole generation of young women who want both feminine flowers but also intense sensuality. It is this marriage of strength and sweetness that of course inspired this new Idole campaign, which quickly stood out on the screens by the beauty of its images as well as by the beauty of its symbols.
"In Praise of Freedom" could have actually been the name of the new Idol advertisement which, through the pretty Zendaya, shows us the way. The young American star rides an elegant mount there to conquer the city and, despite her fear of the unknown, she crosses all obstacles until she can finally tell herself that she has succeeded in her crazy bet.
Idole is therefore undoubtedly the perfume of a strong, ambitious woman, who never shies away from obstacles, let's face it!
"It is a perfume linked to the soul and which assures her that she can achieve whatever she desires. »Tells us one of the perfume creators of Idole Adriana Medina.
Idole, a white chypre between fruits, flowers and intense sensuality
Composed by a trio of perfumers located in the four corners of the world (Adriana Medina, Shyamala Maisondieu and Nadège Le Garlantezec), Idole displays both an obvious universality as well as a clearly sought-after singularity.
It is first of all the bergamot that opens Idole with a start of exquisite freshness and unfailing dynamism, a bit like the galloping horse of the beautiful Zendaya in the advertisement. At the heart, no less than four different types of roses will be used, including the Turkish rose or more precisely the Isparta rose designed exclusively for the Lancôme house. Then jasmine absolute oil turns into sunny velvet to accompany its beautiful roses with warmth. A touch of creamy and sweet pear will bring a touch of indulgence to the flowers of Idol. Finally, the chypre white accord of the depths will bring to Idole a trail of incredible sensuality, intended as the exquisite sensation of a hot breath on bare skin.
By choosing to offer the Idole box for this Christmas 2020, you will be able to enjoy a 75 ml spray bottle as well as a free 10 ml mini bottle that can slip into your handbag to be able to enjoy the Idol delights at all times of the day.