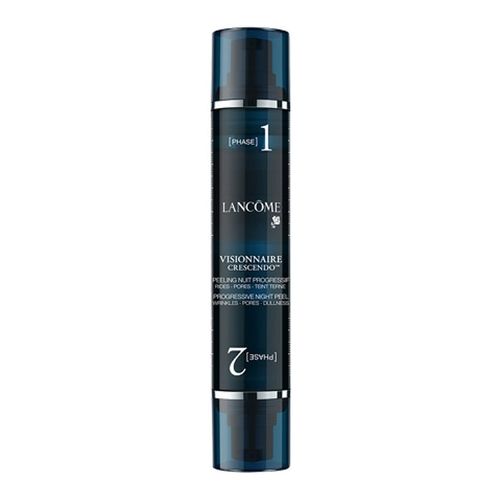 Skin aging is a natural phenomenon that affects absolutely everyone. However, this can sometimes be accentuated by environmental or behavioral phenomena. Thus, stress, UV rays, fatigue, tobacco are all things that contribute to mark the skin over time. To remedy this, Lancôme continues to develop research. These have led the brand to develop a brand new progressive treatment: the Visionary Crescendo. Focus on this new generation beauty process.
Visionary Crescendo, a progressive peel
The Visionary Crescendo Lancômeis a treatment belonging to the brand's Visionary range, an assortment of top-of-the-range cosmetic products that have already proven their worth and more precisely targeting wrinkles, skin pores and the texture of the epidermis. Here, it is more exactly a night peel. But deep down, do you really know what a peel is for? Its English name comes from the verb "to peel" which means "to peel". This induces an exfoliation on the surface but also in depth of the skin. This is done by a chemical means, thanks to the active ingredients contained inside the Visionary Crescendo. In addition, the peel contains multiple benefits. It smooths wrinkles, erases dark spots, brightens the complexion and firms the skin. Ideal for marked faces, with more or less deep wrinkles, The Visionary Crescendo clearly intends to give you a second youth. This allows to sublimate faces that have been too exposed to the sun. It gives them an immediate radiance while erasing the pigment spots. So, what would you say to regain the radiance of your 20 years in just a few applications?
The two-phase application of Lancôme treatment
Most of the time, the application of a peel is done directly by a dermatologist. However, Lancôme saves you timeand carry out this treatment directly at your home. Nevertheless, the brand recommends a certain method of application. In addition, Visionary Crescendo is an innovative treatment that is applied in two phases for a total duration of approximately 28 nights. Then start by applying the Phase One formula containing AHAs from fruit acids. These will allow you to stimulate cell renewal in your skin. Likewise, to further speed up this process, quinoa bran extract has been added to its composition. This allows to gently exfoliate the epidermis. Then comes the time to move on to Phase Two. This begins after 14 nights. This second part of the product contains a duo of salicylic acid and glycolic acid. These two agents will be used to sublimate your skin. Salicylic acid evens skin tone while glycolic acid helps smooth the skin's surface. The Visionary Crescendo is a real gem of technology, a great advance in the world of cosmetology.