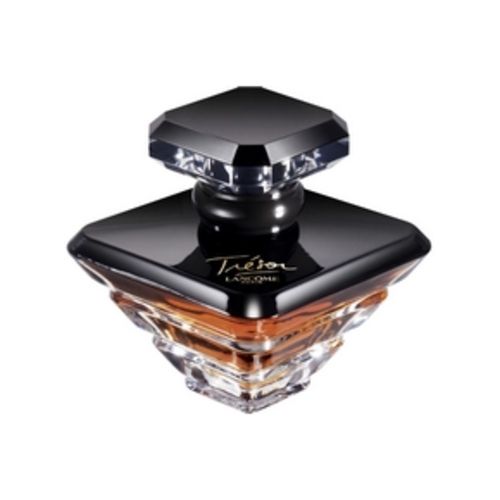 At the start of the 2013 school year, Lancôme fragrances launched a new chapter in the Trésor de Lancôme saga.
The Absolute Treasure
Buy the Trésor L'Absolu perfume from Lancôme at a low price in your online perfume store: Fragrenza Perfumes .
In November 2011 Trésor l'Absolu Désir was born. In September 2013 a new creation replaced it: Trésor L'Absolu. This time Lancôme has played the game of luxury with a black diamond as a bottle. Trésor L'Absolu will come at the same time as Trésor Eau de Parfum Lumineuse .
Trésor L'Absolu – Perfume
The new Trésor L'Absolu perfume is a very feminine blend of flowers , woody accords , combined with an ultra seductive leather . The fragrance opens with very sweet notes of Damascus roses in association with woody notes. The heart of the fragrance is then revealed through floral notes of centifolia rose, jasmine and patchouli. The Trésor L'Absolu base is characterized by an omnipresent leather note associated with notes of vanilla and benzoin which soften the finish of the perfume.
Trésor L'Absolu – Bottle
The Trésor L'Absolu perfume bottle takes the shape of a diamond, like Lancôme's Trésor perfume. Touches of satin black appear on the top of the cork and the bottle, leaving room for a rapprochement between light and dark. This effect of contrast between radiance and penumbra is like the Trésor L'Absolu perfume, which combines soft floral notes with lovely leather notes.
The Absolute Treasure – Penelope Cruz
Who better than the Spanish actress Penelope Cruz to embody the contrast between gentleness and seduction. Thus Lancôme continues its partnership with the beautiful Hispanic woman, like all of Lancôme's Trésor line, will represent this new fragrance: Trésor L'Absolu.
Woman Perfume
Top Notes: Damask Rose, Woody Notes.
Heart Notes: Rose Centifolia, Jasmine, Patchouli.
Base Notes : Leather Notes, Vanilla, Benzoin.
Find it at the best price at our perfume partner: Trésor – Fragrenza Perfumes as well as all Lancôme brand products .