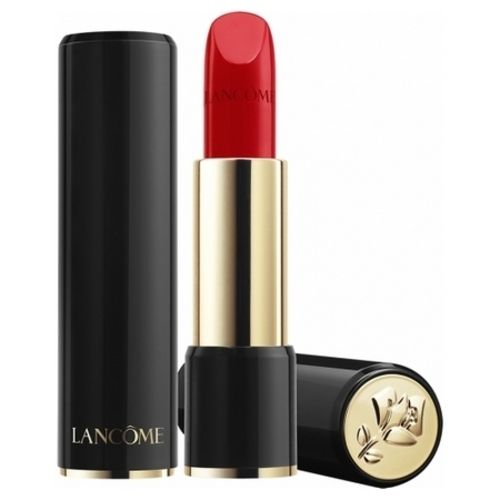 L'Absolu Rouge 2016, Lancôme's autumn lipstick
Autumn is for many luxury brands the season of all the daring. Indeed, they too take over the management of the school benches for the month of September and are quick to publish their summer homework, namely their new collection for the following autumn winter. Also, the year 2016 seems very much turned towards lipstick. Lancôme has therefore not escaped the rule and has just revealed to us which will be your best ally to have a perfectly sublimated mouth next winter: focus on L'Absolu Rouge 2016.
The many advantages of L'Absolu Rouge 2016
L'Absolu Rouge 2016 is a lipstick that has multiple advantages. First of all, it releases an intense color by creating a homogeneous and satin veil in a single pass. Indeed, its Satin Color Complex patented by Lancôme ensures a homogeneous diffusion of its color while high-fidelity pigments guarantee a deep and particularly intense result.
Likewise, it not only leaves a sublime color on your mouth, it also takes care of your skin over time. In addition, it contains patented Pro-Xylan and Ceramide V which balances the hydration of your mouth and thus reinforces the protection of your lips.
Likewise, its recipe enriched with vitamins E protects you from everyday attacks such as pollution or cold. Thus, your mouth is seen considerably softer and the hydration of your lips is preserved for eight hours in a row. From now on, the cracks linked to the cold will no longer get the better of your pretty smile. This exclusive Lancôme formula visibly softens and plumps lips day after day. What's more, everything is presented in an elegant black tube with an innovative magnetic clasp, which allows you to take your Absolu Rouge 2016 with you everywhere without fear of it opening in your bag.
A collaboration between Lancôme and Lisa Eldridge
To develop Absolu Rouge 2016 lipstick, Lancôme called on the expertise of Lisa Eldridge . The latter is one of the most experienced and respected makeup artists on the planet. In particular, she manages numerous parades, managing to sublimate the natural beauty of the greatest models and doing essential work for photographers and artistic directors. Lisa Eldridge can boast of having worked with the biggest stars on the planet such as Kate Winslet, Lily Collins, Kate Moss or Emma Watson.
Likewise, all the biggest fashion brands are snapping up its services including Gucci, Prada, Jil Sander, Chloé… Wearing a Lisa Eldridge product is therefore a bit like entering the very select universe of the world's greatest celebrities.
In other words, L'Absolu Rouge 2016 is a product resulting from extraordinary expertise. This is a make-up item that immediately enhances your beauty but also in the long term, which will ensure you have a perfect mouth day after day.