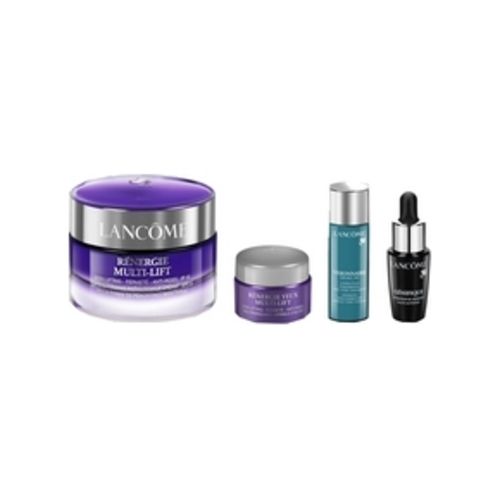 Discover the Rénergie Multi-Lift Box from Lancôme …
Rénergie Multi-Lift box
Buy the Lancôme Rénergie Multi-Lift Box at a low price on Fragrenza Perfumes.
The Lancôme Rénergie Multi-Lift set contains:
a Rénergie Multi-Lift Cream Jar 50 ml
a Renergy Eye Cream Multi-Lift 5ml
a Visionary Treatment 7ml
a Génifique Serum 7ml
Lifting treatment – Firmness – Anti-wrinkles – IP 15
Smoothed and tightened, the skin visibly catches the light.
In this elite treatment, Multi-Tension technology is designed to target all layers of the skin, even the deepest *.
In 4 weeks, wrinkles fade and even the areas most difficult to lift seem visibly reshaped: the forehead appears lifted, the cheekbones plumped,
the redesigned oval and redefined contours.
2 out of 3 women see themselves rejuvenated in the mirror **
* In vitro tests.
** Self-assessments – 97 women – 4 weeks.
Find it at the best price with our skincare partner: Rénergie Multi-Lift Cream – Fragrenza Perfumes as well as all Lancôme brand products .