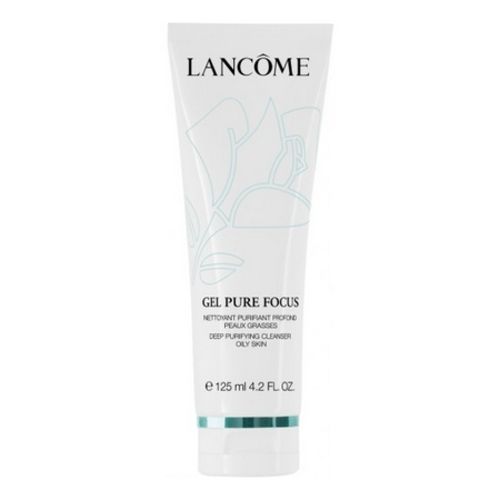 Since 1935, the Lancôme brand has celebrated and sublimated the beauty of women through its perfumes, but also its skin care products and make-up . At the origin of the luxury brand, the audacity of Armande Petitjean. Facing American brands, he said "that a French house had to join the ranks"… Emotion, joie de vivre and beauty of women, are the values ​​that characterize Lancôme, the n ° 1 brand on the market selective feminine cosmetics. The ambassadors are ultra charismatic and natural women like Juliette Binoche, Anne Hathaway, Julia Roberts, Emma Watson or even Pénélope Cruz. Here, Lancôme presents its "Pure Focus Cleansing Gel".
The striking action of Lancôme, Pure Focus Cleansing Gel
Lancôme "Pure Focus Cleansing Gel" is ideal for oily skin. With it, your skin rediscovers purity. She wants to be pure, dull, like metamorphosed, even very closely. "Pure Focus Cleansing Gel" is a translucent gel with a creamy foam that cleanses, removes make-up and eliminates impurities in order to provide perfectly clean and fresh skin. Its descaling micro-beads purify your skin in depth, while respecting its balance. Purified, your skin is healthy and lastingly uniform. Indeed, the "Dermo-Guide System" diffuses micro-sensors designed to target the deepest pores and absorb sebum at its source. Thanks to a cocktail of purifying active ingredients, the harmful effects of sebum on the skin are better treated. Your Lancôme gel is non-greasy and non-comedogenic.
Lancôme, Pure Focus Cleansing Gel, usage tips
You can use your "Pure Focus Cleansing Gel" every day, morning and evening. First, moisten your face with water. Then distribute your gel makeup remover with your fingers over your entire wet face, by light strokes from the inside to the outside, avoiding the eye area. The cleansing is done in small circular motions on the whole of your face, with particular emphasis on the middle zone. Finally, rinse with clean water. Its tube is dressed in white and you can see, as with all Lancôme skincare products, the rose sculpted in a pale green color. Your Lancôme cleansing gel is available in 125 ml.