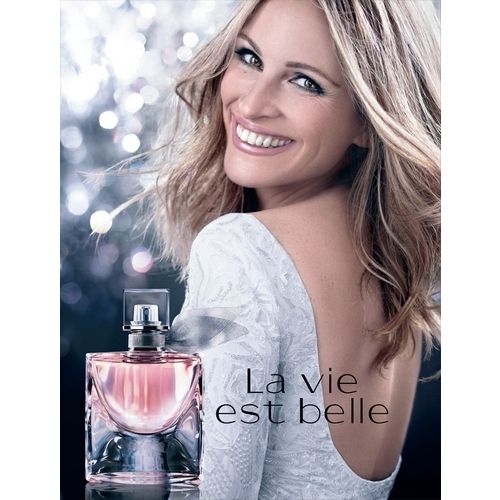 What more beautiful message than the one delivered by this perfume? La Vie est Belle is a juice that encourages people to see life on the bright side. Also, it seems that women want to believe in his message of optimism since the sales of this perfume have continued to increase since its release in 2012. The latter has barely seen the light of day when it is already ranked among the fragrances. mythical. It must be said that it has all the assets to pave the way for success: a very feminine floral and fruity scent, a very elegant jewel bottle and a charming muse in the person of Julia Roberts.
La Vie est Belle, femininity at the heart of a smile
La Vie est Belle is a very elaborate perfume. It took three years of work and no less than 5521 tests. In addition, it features the trifle of 63 ingredients. It is the result of a unique know-how combining creativity, sophistication and femininity. La Vie est Belle is built on different iris chords. It includes Florence Iris Pallida, one of the rarest and most prestigious ingredients in luxury perfumery. The whole is both oriental and gourmet. It starts with sweet notes similar to that of a sun-drenched fruit. His heart, meanwhile, is just as bright. It combines orange blossom and jasmine. Finally, its wake is very greedy. There is vanilla, tonka bean, praline and patchouli.
On the bottle side, we have a crisp anecdote to tell you. Indeed, know that the setting of La Vie est Belle was not conceived at the same time as its essence, far from it. The latter was imagined in 1949! He was just waiting to find the right fit. Also, Lancôme saw in his glass, surmounting its base, a sort of smile. This is how he decided to bring out his jewel case from the cupboards on the occasion of the release of La Vie est Belle. Indeed, the two seemed made to meet.
Lancôme offers itself the services of a very noticed muse
In order to promote its exceptional fragrance, Lancôme has implemented colossal means. In this case, he chose as his muse one of the most famous actresses on the planet. Anxious to always put forward this famous image of the smile present in its bottle, Lancôme decided to call on the beautiful Julia Roberts. After all, the actress's mouth has simply become legendary and there is arguably no smile more famous than hers in the world. In addition, there was a lot of talk about one advertising spot. Lancôme has chosen to broadcast a mini commercial film on December 23, a Sunday evening in prime time. With 6.4 million viewers in front of their television sets, many of whom are late for Christmas presents, we can say that Lancôme has mastered the art of communication to perfection. Sales of La Vie est Belle instantly skyrocketed and it must be recognized that the bet, admittedly costly, turned out to be a winner. However, do not wait for the holidays to offer this essence synonymous with happiness, all occasions are good to wear La Vie est Belle, especially the larger ones.