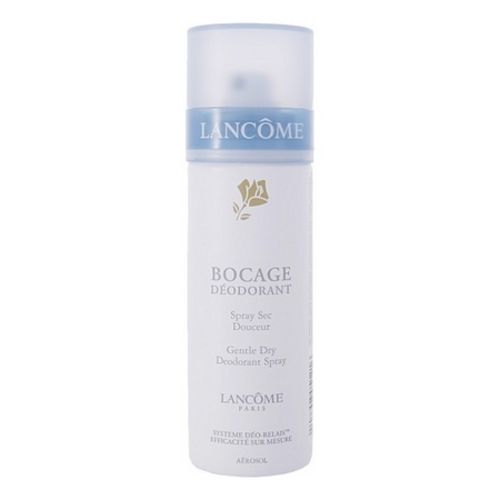 Bocage by Lancôme, the deodorant spray that respects sensitive skin
Sweating is, of course, a natural phenomenon. However, it is still quite unpleasant. What's more, some people suffer from it more than others. It's all a matter of heredity. Likewise, certain external factors tend to promote sweating. Stress, high temperatures or a humid climate are all elements that only increase the production of sweat by the body. Add to that the little unpleasant smell and you will easily understand why so many beauty brands offer different deodorants to fight against this phenomenon. Anxious to bring softness to the most fragile skins while guaranteeing their optimal effectiveness, the Lancôme house presents its Bocage Deodorant Spray.
The plant-based softness of Bocage Deodorant Spray
Lancôme Bocage Deodorant Spray is suitable for all types of skin, even the most sensitive. It vaporizes in a single gesture and brings an immediate feeling of freshness to your armpits. Very comfortable, it leaves a velvety touch on your skin. Its effectiveness is immediate and then lasts throughout the day. Lancôme Bocage Deodorant Spray acts directly on the bacteria present on the surface of your epidermis. By fighting against these, the Deodorant Spray Bocage ensures freshness that lasts again and again. It prevents the appearance of bad odors, without ever being aggressive. The Deodorant Spray Bocagedoes not contain alcohol and does not dry out the skin. It does not alter the hydrolipidic film and is even enriched with soothing and softening plant extracts. Its aluminum salts act on the sweat glands. Thus, the effectiveness of Bocage Deodorant Spray is only reinforced and the problem is treated directly at the source. Lancôme Bocage Deodorant Spray is ideal for fragile or depilated skin. It ensures maximum hygiene associated with maximum softness.
Focus on the phenomenon of perspiration
To better understand the effectiveness of Lancôme Bocage Deodorant Spray, you still need to know how perspiration works. It all starts with the sweat glands. These produce a fluid, sweat, which flows naturally through the pores of our epidermis. However, be aware that perspiration is completely odorless at this point. In fact, it takes on its bad smell when it comes into contact with the bacteria present on our skin surface. To act effectively against perspiration, Deodorant Spray Bocage acts at all stages of the latter. Its aluminum salts regulate the production of perspiration in the glands. Its antibacterial agents destroy bacteria. Finally, it leaves a delicate scent on your skin and ensures continuous freshness. So, Bocage Deodorant Spray helps you face all the hardships of your daily life. It helps you maintain your self-confidence and stay fresh from early morning until night.