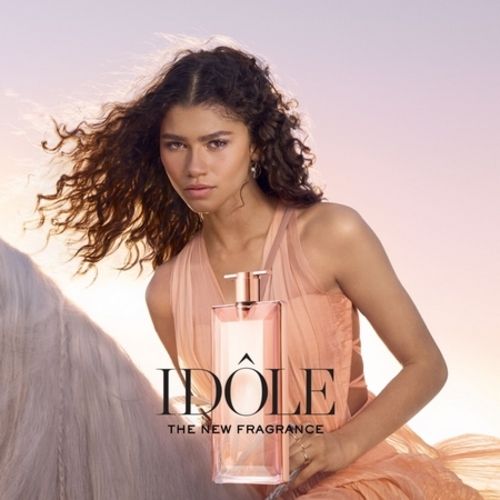 Idôle, Zendaya's breath of freedom for Lancôme
If the beautiful Julia Roberts breathed us a life freed from the weight of constraints and what will be said with success since 2012 for La Vie est Belle, Zendaya will offer us with the Idôle perfume a new parenthesis of freedom as well. In this 2019 advertisement, the world of Idôle is defined as resolutely feminine but also definitely engaged and determined, let's set off together to discover this new world signed Lancôme!
Idole, that scent of a conqueror!
We are at the dawn of a new day and the veil of this advertisement rises in a rather original way on a landscape seen from below, more precisely at the level of the legs of a horse which walks slowly. We then discover this gigantic city of Los Angeles in front of which the horse and its rider stopped. The beautiful young lady whose face we are now discovering looks at her with some concern, yet she decides to step up and now run her beautiful frame to her buildings.
Together, horse and rider cross bridges and rivers then finally arrive in the center of the city, in the middle of a crossroads, in full traffic. While the young Idole woman and her horse seem lost and the crowd pays no attention to them, the young lady finally finds her way by directing her gaze towards the sun which illuminates the gray and cold buildings with its heat and light. Reassured, she leaves confident and smiling towards the light while running through the most impressive monuments of the city.
The Idôle rider and her horse have finally been able to find the peace and quiet of nature, however, as the day seems to be drawing to a close, they choose the best place to admire the sun setting over Los Angeles. Proud to have accomplished this city trip alone and despite her fear, the woman then brandishes her most beautiful trophy in front of the sun as a sign of victory, her bottle of Idôle perfume of course! She then cries out: "If I can, we all can!" ".
The aesthetic and symbolic universe of the Idôle campaign
This new campaign for Idôle was produced for Lancôme by Manu Cossu. The man sought to create for Idôle a universe with careful aesthetics and to highlight as much the distinguished beauty of his young actress as that of the horse, a rare thing in an advertisement for the perfume.
De plus, les plans larges et les splendides couleurs qui teintent Los Angeles offrent une symbolique naturelle assez étonnante entre les moments de peur de la jeune femme et les moments de bonheur, moments rythmés d'ailleurs par la superbe chanson de Sia, Unstoppable, qui habille l'histoire avec force.
Zendaya, cette jeune et déterminée égérie de Idôle
La belle égérie d'Idôle est Zendaya Coleman, une jeune actrice de 22 ans qui a fait ses premiers pas dans l'univers des séries Disney. Aujourd'hui la demoiselle est devenue adulte, mieux encore, elle est très populaire sur les réseaux sociaux, tant elle adore le milieu de la mode comme celui du show-biz.
Actrice mais aussi chanteuse, Zendaya s'est illustrée aussi en prenant position de façon très rapide sur les grandes questions qui tiraillent les États-Unis, notamment celle des clichés sur les Noirs Américains dont elle fut victime en 2015.
Ainsi Zendaya n'est pas seulement belle, elle est aussi une jeune femme qui ose dire ce qu'elle pense, ce qui fait donc d'elle une magnifique porte-parole pour Idôle ce parfum de la liberté !
Idôle, ce parfum fleuri pour jeunes femmes modernes
Créé par les trois parfumeuses de talents que sont Shyamala Maisondieu, Nadège Le Garlantezec et Adriana Medina, Idôle se veut être une nouvelle alternative aux parfums gourmands actuellement proposés aux jeunes femmes. Effectivement cet accord jasmin-rose-chypre blanc ne cherche plus à être gourmand mais bien à être aussi lumineux, féminin que sensuel.
Qui est la jeune femme Idôle ?
« Le parfum des femmes qui vivent leurs rêves en grand. Une nouvelle génération de femmes conquérantes, audacieuses et inspirantes. Leaders de demain, le ciel n'a pas de limite pour elles. Une invitation à devenir sa propre idôle et ouvrir la voie aux autres. » Lancôme pour Idôle.
Nous comprenons donc à quel point cette publicité avec Zendaya est inspirante pour les jeunes femmes Idôle qui cherchent encore leur voie tout en ayant une furieuse envie de prendre uniquement celle qui semble celle de la plus grande liberté.
De Trésor à Idôle, les publicités Lancôme veulent brandr les mémoires
Comment avoir pu oublier la délicatesse et la poésie que Trésor et la douce Isabella Rossellini ont pu laisser dans nos souvenirs ? Justement parce à cette époque ce type de publicité narrative ne se faisait encore, Lancôme a su brandr l'histoire et depuis a toujours su nous conter des sagas parfumées où la femme y apparait radieuse, heureuse, à l'image de cet Idôle qui nous offre un vent de libertés.